May and June Fishing Charters and Bow fishing in Tampa Florida
by Captain David Beede
/
Tuesday, 13 June 2017
/
Published in
Baracuda
,
Black Drum
,
Black Seabass
,
Cobia
,
Fishing Charter Tampa Florida
,
Flounder
,
Grouper
,
Jack Crevalle
,
Redfish
,
Shark
,
Snapper
,
Snook
,
Spotted Sea Trout
,
Tampa Fishing Charters
,
Tampa Fishing Guide
,
Tarpon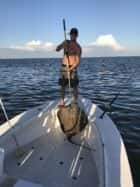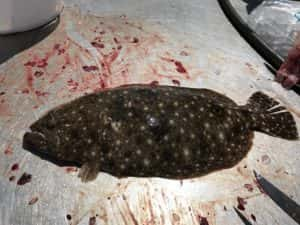 Flounder can be big but they are infrequent.   Some of them eat large baits!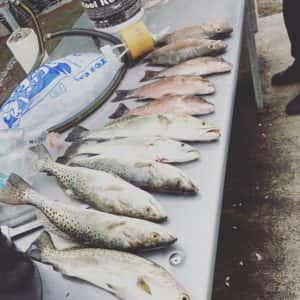 Trout snappper grouper and black sea bass are good to eat and great fun!  While you are catching them you get your shots at Mackerel, shark and cobia and a infrequent tarpon!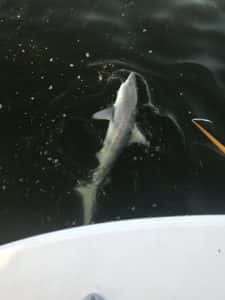 Shark are by far the stellar part of this time of year.  They are big and acrobatic.  They fight hard too!  Black tip, Bull, Hammer head, spinner and all sorts of reef species are possible!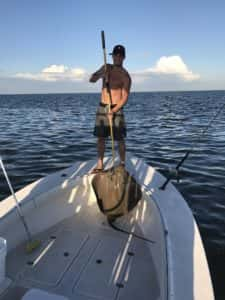 Big Sting rays come boatside two ways!   Bowfishing and bait fishing!  This is one of the big ones that the client stayed with to get to the boat!  You will see him on the field in Illinois as a safety!  Good guy and great athlete!
This was the youngest slam ever on my boat!   She wanted to get a snook red and trout for her unborn son!   That was awesome and fun!!  She got a really big 33 inch 14 lb redfish out of the bushes on this one!   WOW!!!!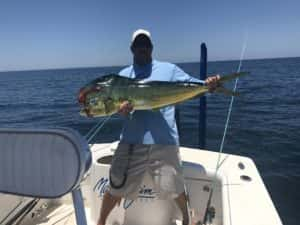 I go on vacation and when I do I like light tackle and I like a good sport!  These bull mahi and reef species make my day!
Bowfishing has been awesome!  This client was the best shot I personally have ever seen!   He told me that he has a record of 736 consecutive clays on bow.  That is accurate!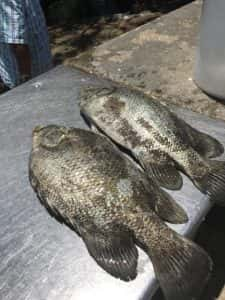 Very possible to get Tripletail too!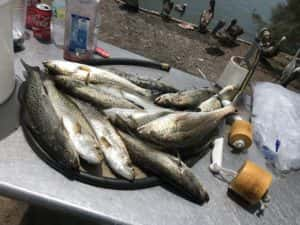 A meal of redfish and trout with the slams in between is fun as all get out!
WHile we get the occasional cobia I have seen some huge ones!   I want one of those huge ones and they seem to swim by my boat every 2-3 trips!
mackerel, Snook, Redfish- huge redfish, sharks cobia snapper and trout!  Things can be real good!
These clients come down every year and have a blast!  THis year the shark inshore did not bite for them but spectacular inshore species did!   Great job for sure!!
This was one of the big cobia that swam by the boat and actually ate something!  YAHOO!!!  That is my fishing machine and me launching in the morning!   The rest of the pictures are great times with great clients and making memories for sure!   Hope you all get the chance to come out and do the same!