December & January Fishing in Tampa Florida
by Captain David Beede
/
Thursday, 07 January 2016
/
Published in
Black Seabass
,
Bonita
,
Cobia
,
Fishing Trips Tampa Bay
,
Flounder
,
Jack Crevalle
,
Kids Fishing
,
Redfish
,
Shark
,
Sheeps Head
,
Snapper
,
Snook
,
Spanish and King Mackerel
,
Spotted Sea Trout
,
Tampa Fishing Charters
,
Tampa Fishing Guide
,
Tarpon
,
Tournament Fishing
,
What to Do in Tampa Bay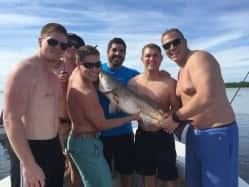 It has been hot and the fishing and the Flats Slams are in full swing even in the cruddy weather!   It usually clears up by the end of the day and everyone has a ton of fun!  I call it stitching the day!   A day when most go home or stay on the couch.  We make it happen!   Snook Fishing is as good as it gets!  These are the fresh fish no the bloody fish over in Weedon island that the guides beat up every day in the Lake!  Nope this is fresh hooks all day long!   The Redfish can be big!   HUGE for sure!  Plenty of slot fish too!   Kids are very capable of doing it as well!  Some of these fish just take all our tackle and we never see them but if you play it right and listen to me you can be very happy for sure!  Trout up to 24 inch and redfish up to 40+ inch and Snook to 40 as well!   The snook have been very aggressive and know exactly where they live!   Call me to book your trip!  not too far now is Tarpon season!   It is shaping up to be a great year for sure!