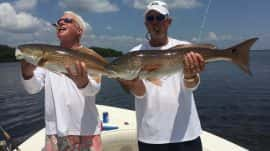 Won two division top slot slams for Snook, Redfish and Trout for the Johnny Ferlita Pediatric Cancer Tournament.   The Woman and Kid division were my clients winning.  They got some cool hardware! Shallow water fishing at its finest.  Slams, Slot fish, etc..   Reds, Snook, Trout,Tarpon, Shark, Mackerel, Cobia, and more.
Published in

Black Drum, Black Seabass, Cobia, Fishing Charter Tampa Florida, Fishing Guide Florida, Fishing Guide Tampa Bay, Fishing Trips Tampa Bay, Flounder, Gause Built Boat, Jack Crevalle, Kids Fishing, Permit, Pompano, Redfish, Shark, Snapper, Snook, Spanish and King Mackerel, Spotted Sea Trout, Tampa Fishing Charters, Tampa Fishing Guide, Tarpon, Tournament Fishing, What to Do in Tampa Bay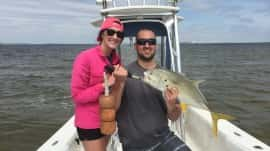 This couple went fishing and it was cold in the morning and got really warm. Right when the sun popped out we caught Permit, Jack and Pompano! Great day sight fishing for really large fish! Go fishing folks it is awesome out there!
Tagged under:
Best fishing charter Tampa
,
Charter Fishing Trips
,
Charter Fishing Trips Tampa
,
Charters Fishing Tampa
,
Charters Fishing Tampa Bay Florida
,
Deep Sea Fishing
,
Deep Sea Fishing Trips
,
Find Charter Fishing Tampa
,
Find Fishing Charter Tampa
,
Fish Charter Tampa
,
Fish On Charters
,
Fishing Boat Charter
,
Fishing Boat Charters
,
Fishing Charter Boats Tampa
,
Fishing Charters in Tampa
,
Fishing Charters Tampa Bay
,
Fishing Vacations
,
Ocean Fishing Trips
,
Shark Fishing Charters
,
Shark Fishing Tampa Bay
,
St Pete Fishing
,
St Pete Fishing Charter
,
Tampa Charters Fishing
,
Tampa Deep Sea fishing
,
Tampa Fishing Boat Charters
,
Tampa Fishing Charter
,
Tampa Fishing Guide
,
Tampa local Charter
,
Tampa Tarpon Fishing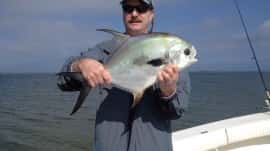 We were sight casting Jack Crevalle and Permit as well as Pompano. Great day all around! Love this vocation! make it a great day in Tampa Bay Florida fishing with Shallow Point Fishing Charters and Dave Beede
Tagged under:
Best fishing charter Tampa
,
Charter Fishing Trips
,
Charter Fishing Trips Tampa
,
Charters Fishing Tampa
,
Charters Fishing Tampa Bay Florida
,
Deep Sea Fishing
,
Deep Sea Fishing Trips
,
Find Charter Fishing Tampa
,
Find Fishing Charter Tampa
,
Fish Charter Tampa
,
Fish On Charters
,
Fishing Boat Charter
,
Fishing Boat Charters
,
Fishing Charter Boats Tampa
,
Fishing Charters in Tampa
,
Fishing Charters Tampa Bay
,
Fishing Vacations
,
Ocean Fishing Trips
,
Shark Fishing Charters
,
Shark Fishing Tampa Bay
,
St Pete Fishing
,
St Pete Fishing Charter
,
Tampa Charters Fishing
,
Tampa Deep Sea fishing
,
Tampa Fishing Boat Charters
,
Tampa Fishing Charter
,
Tampa Fishing Guide
,
Tampa local Charter
,
Tampa Tarpon Fishing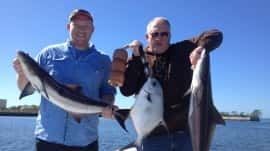 These two were worried we would not get any good fish! Well lets say there are not many trips that you get this kind of action! It was kind of funny that people were just motoring by me and we were clobbering the fish! One guy stopped looked anchored and tried to fish. We boated
Tagged under:
Best fishing charter Tampa
,
Charter Fishing Trips
,
Charter Fishing Trips Tampa
,
Charters Fishing Tampa
,
Charters Fishing Tampa Bay Florida
,
Find Charter Fishing Tampa
,
Find Fishing Charter Tampa
,
Fish Charter Tampa
,
Fish On Charters
,
Fishing Boat Charter
,
Fishing Boat Charters
,
Fishing Charter Boats Tampa
,
Fishing Charters in Tampa
,
Fishing Charters Tampa Bay
,
Fishing Vacations
,
Ocean Fishing Trips
,
Shark Fishing Charters
,
Shark Fishing Tampa Bay
,
St Pete Fishing
,
St Pete Fishing Charter
,
Tampa Charters Fishing
,
Tampa Fishing Boat Charters
,
Tampa Fishing Charter
,
Tampa Fishing Guide
,
Tampa local Charter
,
Tampa Tarpon Fishing