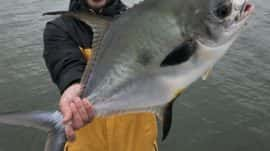 Fishing has been epic in Tampa Florida!  I get calls people asking can I catch shark and I say sure!  Hammer Head sharks, Bull Sharks, Black Tip, Bonnet and Spinner sharks.  These are large fish!   Done!   Can we catch Tarpon….No I would not guarantee it but we have been jumping them!   Check out the smile
Published in

Black Drum, Cobia, Fishing Charter Tampa Florida, Fishing Guide Florida, Fishing Guide Tampa Bay, Gause Built Boat, Grouper, Jack Crevalle, Permit, Pompano, Redfish, Repeat Client, Shark, Sheeps Head, Snapper, Snook, Spanish and King Mackerel, Spotted Sea Trout, Tampa Fishing Charters, Tampa Fishing Guide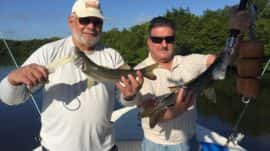 Been getting Permit and pompano on a consistent basis on my Fishing Charters in Tampa Florida.  Best day of pompano was 7 and best permit day was 14.  Pretty cool!   Cobia have also been consistent!   Best fish was 60+lbs and a consistent school of 30-40lbs are on the trip shot every time!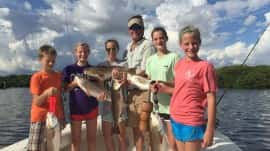 This fishing trip was awesome and the kids could not have done better!   The picture says it all!  They all caught Redfish and a few snook!   They were going home with some fresh fish to eat as well!  Good times for sure!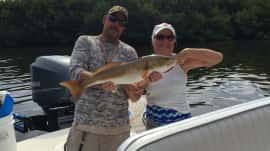 Full Time fishing Guide in Tampa Bay Florida Catching fish and having fun with clients. Make it a day catching fish!