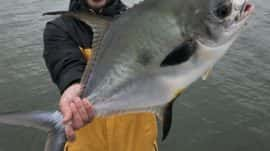 Fishing has been epic in Tampa Florida!  I get calls people asking can I catch shark and I say sure!  Hammer Head sharks, Bull Sharks, Black Tip, Bonnet and Spinner sharks.  These are large fish!   Done!   Can we catch Tarpon….No I would not guarantee it but we have been jumping them!   Check out the smile
Published in

Black Drum, Cobia, Fishing Charter Tampa Florida, Fishing Guide Florida, Fishing Guide Tampa Bay, Gause Built Boat, Grouper, Jack Crevalle, Permit, Pompano, Redfish, Repeat Client, Shark, Sheeps Head, Snapper, Snook, Spanish and King Mackerel, Spotted Sea Trout, Tampa Fishing Charters, Tampa Fishing Guide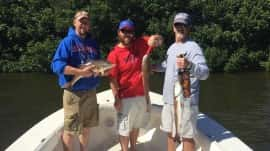 You just gotta love redfish snook and trout all day!  These guys did too!  Come out and fish until you are sore in the arm and gut!  These fish pull and pull and pull !  It is up to you to get them to the boat!
Tagged under:
33547
,
33565
,
33609
,
33611
,
33626
,
33629
,
33634
,
34677
,
Fishing
,
Fishing Charters
,
Fishing Guide
,
Fishing Trips
,
Flats Fishing
,
Professional Fishing Guide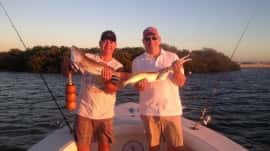 We got the chance to go fishing in the break in the weather and BOOM! This was real good fishing! We got our limit and slams within the first few minutes of the trip! The bite kept going the whole time! Happy Clients Happy Dave! I hope you enjoy it as much as I do!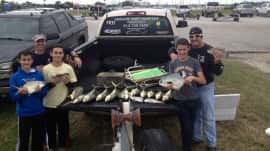 We had 5 clients come out. Two dads and three sons. Everyone caught fish! The first cast was a lost cobia. A few casts later we got stripped again! Big! Just a monster and lost it! The mood on the boat was not perfect and I really wanted that fish back! But we kept going!
Tagged under:
33609
,
33611
,
33626
,
5 people fishing tampa
,
Best Fishing Charter
,
Best Fishing Guide
,
charter boat tampa
,
Charter Boats
,
Fishing Boats Tampa
,
Flats Fishing Charters
,
Florida Fishing Guide Full Time FIshing Charter in Down Town Tampa
,
Shallow Point Fishing Charters
,
Tampa Fishing Charter
,
Tampa Fishing Charters
,
Tampa Fishing Guide