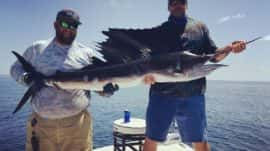 As a fishing guide full time in Tampa Florida I fish all year round. 365 Days per year through all sorts of weather and situations.   Great days all the way around!  Snook Trout Redfish, Mackerel Sharks Grouper Tuna Flounder Kingfish, Tarpon, Permit, Pompano, Cobia, Big Sharks and all sorts.  I even got sailfish in the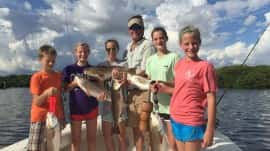 This fishing trip was awesome and the kids could not have done better!   The picture says it all!  They all caught Redfish and a few snook!   They were going home with some fresh fish to eat as well!  Good times for sure!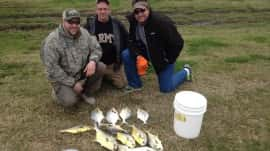 We clobbered them this day! You have to take advantage when you can to get yourself some of these fish for sure!
Published in

Black Drum, Black Seabass, Cobia, Jack Crevalle, Permit, Pompano, Redfish, Shark, Sheeps Head, Snapper, Snook, Spotted Sea Trout, Tarpon, What to Do in Tampa Bay
Tagged under:
Best fishing charter Tampa
,
Charter Fishing Trips
,
Charter Fishing Trips Tampa
,
Charters Fishing Tampa
,
Charters Fishing Tampa Bay Florida
,
Deep Sea Fishing
,
Deep Sea Fishing Trips
,
Find Charter Fishing Tampa
,
Find Fishing Charter Tampa
,
Fish Charter Tampa
,
Fish On Charters
,
Fishing Boat Charter
,
Fishing Boat Charters
,
Fishing Charter Boats Tampa
,
Fishing Charters in Tampa
,
Fishing Charters Tampa Bay
,
Fishing Vacations
,
Ocean Fishing Trips
,
Shark Fishing Charters
,
Shark Fishing Tampa Bay
,
St Pete Fishing
,
St Pete Fishing Charter
,
Tampa Charters Fishing
,
Tampa Deep Sea fishing
,
Tampa Fishing Boat Charters
,
Tampa Fishing Charter
,
Tampa Fishing Guide
,
Tampa local Charter
,
Tampa Tarpon Fishing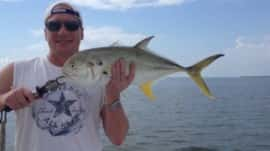 THese fish were complete bruisers! We wore him out 1/2 hour at a time. 13-15lb fish on 20lb test We got about 10 of them and we were done! Sighting these fish casting and getting double hook ups left and right! some of these fish steam you to your backing and you have to chase
Tagged under:
Best fishing charter Tampa
,
Charter Fishing Trips
,
Charter Fishing Trips Tampa
,
Charters Fishing Tampa
,
Charters Fishing Tampa Bay Florida
,
Deep Sea Fishing
,
Deep Sea Fishing Trips
,
Find Charter Fishing Tampa
,
Find Fishing Charter Tampa
,
Fish Charter Tampa
,
Fish On Charters
,
Fishing Boat Charter
,
Fishing Boat Charters
,
Fishing Charter Boats Tampa
,
Fishing Charters in Tampa
,
Fishing Charters Tampa Bay
,
Fishing Vacations
,
Ocean Fishing Trips
,
Shark Fishing Charters
,
Shark Fishing Tampa Bay
,
St Pete Fishing
,
St Pete Fishing Charter
,
Tampa Charters Fishing
,
Tampa Deep Sea fishing
,
Tampa Fishing Boat Charters
,
Tampa Fishing Charter
,
Tampa Fishing Guide
,
Tampa local Charter
,
Tampa Tarpon Fishing