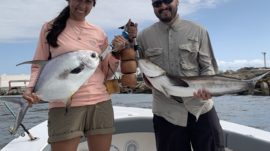 Tampa Bay Fishing has been really good! Permit, Pompano, Sharks, Jack Crevalle, Cobia, Trout, Sheepshead, and Redfish all are eating really well. Lots of my trips get home with so much fish they could not be happier. Life is good on this side of the guide life!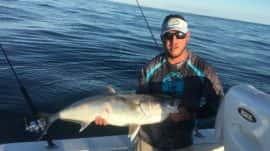 We have been doing reel well on the snook, trout, flounder, snapper, redfish, mackerel, and sheepshead.    The weather is getting way cooler and the fish are moving into their winter habitats.   Great concentrations are hanging on the mangrove edges and we have fun snatching them out of their home for a visit.    Doubles
Published in

Baracuda, Black Drum, Black Seabass, Bonita, Cobia, Fishing Charter Tampa Florida, Fishing Guide Florida, Flounder, Gause Built Boat, Grouper, Jack Crevalle, Kids Fishing, Permit, Pompano, Redfish, Repeat Client, Shark, Sheeps Head, Snapper, Snook, Spanish and King Mackerel, Spotted Sea Trout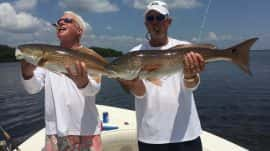 Won two division top slot slams for Snook, Redfish and Trout for the Johnny Ferlita Pediatric Cancer Tournament.   The Woman and Kid division were my clients winning.  They got some cool hardware! Shallow water fishing at its finest.  Slams, Slot fish, etc..   Reds, Snook, Trout,Tarpon, Shark, Mackerel, Cobia, and more.
Published in

Black Drum, Black Seabass, Cobia, Fishing Charter Tampa Florida, Fishing Guide Florida, Fishing Guide Tampa Bay, Fishing Trips Tampa Bay, Flounder, Gause Built Boat, Jack Crevalle, Kids Fishing, Permit, Pompano, Redfish, Shark, Snapper, Snook, Spanish and King Mackerel, Spotted Sea Trout, Tampa Fishing Charters, Tampa Fishing Guide, Tarpon, Tournament Fishing, What to Do in Tampa Bay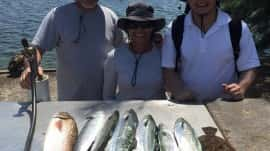 It has been transition and transition cold warm hot windy rainy and the fishing has been stellar!   Tampa Fishing Charters and Guide Service Catching Reds, Snook, Trout, Tarpon, Cobia, Mackerel and Shark.  We have been really consistent on all species the only one the last two days has not jumped on the hook is a
Published in

Black Seabass, Fishing Charter Tampa Florida, Fishing Guide Florida, Fishing Guide Tampa Bay, Fishing Trips Tampa Bay, Flounder, Gause Built Boat, Jack Crevalle, Kids Fishing, Permit, Pompano, Redfish, Shark, Sheeps Head, Snapper, Snook, Spanish and King Mackerel, Spotted Sea Trout, Tampa Fishing Charters, Tampa Fishing Guide, Tarpon, Tournament Fishing