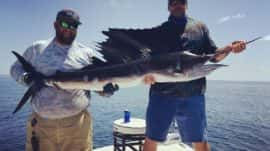 As a fishing guide full time in Tampa Florida I fish all year round. 365 Days per year through all sorts of weather and situations.   Great days all the way around!  Snook Trout Redfish, Mackerel Sharks Grouper Tuna Flounder Kingfish, Tarpon, Permit, Pompano, Cobia, Big Sharks and all sorts.  I even got sailfish in the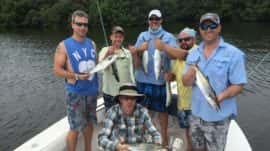 Fishing charters have been very successful with Cobia, Snapper Mackerel shark and trout on each trip.  They seem to be getting bigger.   Snapper limits are almost a guarantee!  Redfish are spooky but they are real good when they finally show up!   Snook are quick to hit and are providing a quick breathtaking fight!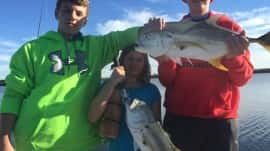 Fishing in Tampa for Canal Tuna is excellent and these fish will bust your tackle for sure!  Doubles and triples hook ups in almost a guarantee!  We can do this on Fly as well as artificial or bait.  Great days for sure!
I got the call and went out. I was going to do a buddy a favor. Man I was primed to get onto the fish. I knew that in the next few moments the fishing was going to go off the hook. First bait in the water was a top slot 27 inch fatty redfish.