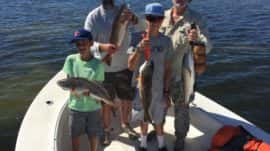 Tampa Fishing is hot as it can be.   It has been hot and the fishing and the Flats Slams are in full swing even in the cruddy windy weather!   It usually clears up by the end of the day and everyone has a ton of fun!  I call it stitching the day so make it
Tagged under:
33609
,
33611
,
33626
,
Best Fishing Charter
,
Best fishing charter Tampa
,
Find Charter Fishing Tampa
,
Find Fishing Charter Tampa
,
Fish Charter Tampa
,
Fishing Charter Boats Tampa
,
Fishing Charters Tampa Bay
,
Fishing Vacations
,
Shark Fishing Charters
,
Shark Fishing Tampa Bay
,
Tampa Fishing Guide
,
Tampa Tarpon Fishing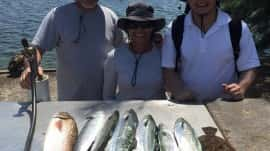 It has been transition and transition cold warm hot windy rainy and the fishing has been stellar!   Tampa Fishing Charters and Guide Service Catching Reds, Snook, Trout, Tarpon, Cobia, Mackerel and Shark.  We have been really consistent on all species the only one the last two days has not jumped on the hook is a
Published in

Black Seabass, Fishing Charter Tampa Florida, Fishing Guide Florida, Fishing Guide Tampa Bay, Fishing Trips Tampa Bay, Flounder, Gause Built Boat, Jack Crevalle, Kids Fishing, Permit, Pompano, Redfish, Shark, Sheeps Head, Snapper, Snook, Spanish and King Mackerel, Spotted Sea Trout, Tampa Fishing Charters, Tampa Fishing Guide, Tarpon, Tournament Fishing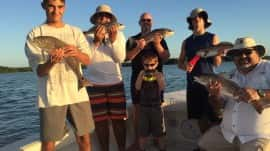 This months Report:  Fishing The Flats Bay and Nearshore waters has been real good on the incoming tide.  Not so much on the dead low when there is negative water. It is very hard to get to the fish and they are really spooky!   But give them some fresh moving water and some live frisky
I got the call and went out. I was going to do a buddy a favor. Man I was primed to get onto the fish. I knew that in the next few moments the fishing was going to go off the hook. First bait in the water was a top slot 27 inch fatty redfish.