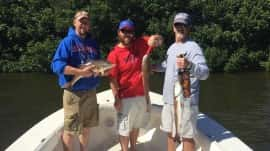 You just gotta love redfish snook and trout all day!  These guys did too!  Come out and fish until you are sore in the arm and gut!  These fish pull and pull and pull !  It is up to you to get them to the boat!
Tagged under:
33547
,
33565
,
33609
,
33611
,
33626
,
33629
,
33634
,
34677
,
Fishing
,
Fishing Charters
,
Fishing Guide
,
Fishing Trips
,
Flats Fishing
,
Professional Fishing Guide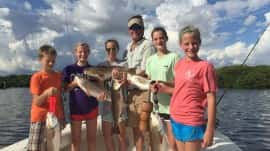 This fishing trip was awesome and the kids could not have done better!   The picture says it all!  They all caught Redfish and a few snook!   They were going home with some fresh fish to eat as well!  Good times for sure!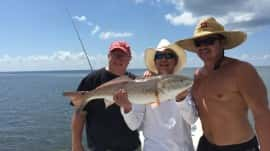 Fishing takes time and determination sometimes.  Sometimes you need to do the right thing at the right time.  Fish were all around us and the distance from the boat was the key to success!  This client got a 33 incher and boy was it a fight!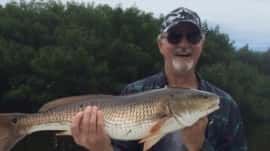 Sometimes I have a day that is combat fishing.   I do not attend church regularly but firmly believe in a higher being.   I spend most of my time on the water wondering how the natural world is so perfect!   Well this day we found out how perfect it is!  We hit the spot at the