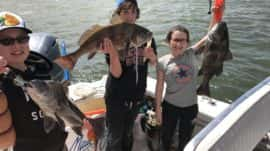 Flats bay and nearshore fishing has been pretty intense!   it was warm and the snook redfish and trout were eating just about everything.  Then the winds picked up it went from 87 degrees down to 37 degrees with 30knt winds.   I mean we still caught the fish with positive anglers thinking we can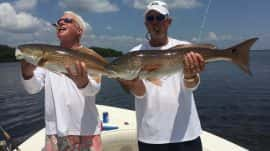 Won two division top slot slams for Snook, Redfish and Trout for the Johnny Ferlita Pediatric Cancer Tournament.   The Woman and Kid division were my clients winning.  They got some cool hardware! Shallow water fishing at its finest.  Slams, Slot fish, etc..   Reds, Snook, Trout,Tarpon, Shark, Mackerel, Cobia, and more.
Published in

Black Drum, Black Seabass, Cobia, Fishing Charter Tampa Florida, Fishing Guide Florida, Fishing Guide Tampa Bay, Fishing Trips Tampa Bay, Flounder, Gause Built Boat, Jack Crevalle, Kids Fishing, Permit, Pompano, Redfish, Shark, Snapper, Snook, Spanish and King Mackerel, Spotted Sea Trout, Tampa Fishing Charters, Tampa Fishing Guide, Tarpon, Tournament Fishing, What to Do in Tampa Bay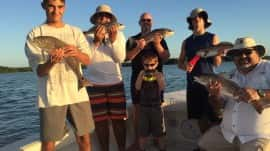 This months Report:  Fishing The Flats Bay and Nearshore waters has been real good on the incoming tide.  Not so much on the dead low when there is negative water. It is very hard to get to the fish and they are really spooky!   But give them some fresh moving water and some live frisky
I got the call and went out. I was going to do a buddy a favor. Man I was primed to get onto the fish. I knew that in the next few moments the fishing was going to go off the hook. First bait in the water was a top slot 27 inch fatty redfish.