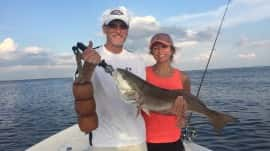 We went to one flat and the mullet guys were running the flat.  We went to another and the mullet guys were circling up my fish.   We went to the last flat and we found nirvana!   giant fish all over the place!   This one was 34.  Nice fat plump redfish.  We got snook trout and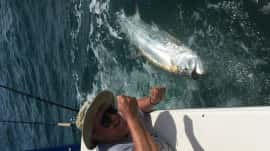 Tarpon, Snapper, Shark, Grouper all in the same place!  GREAT fishing for sure!!!!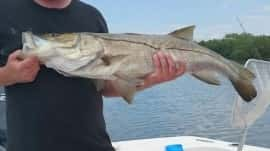 Snook Reds Trout big slot fish and great to eat!   Make a memory!  Get your slam!   Make it happen!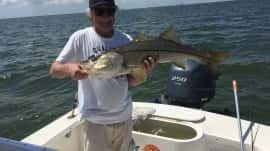 I am not sure if it is luck or skill. These guys got on the boat and had a 94.5 inch slam within a hour! Just enormous fish for sure! Great day all around! They had never been fishing like this before and somehow managed this! Go figure! Nice Yankees Hat!