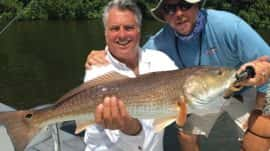 Fishing Tampa Florida in the Bay and flats has been spectacular! Fishing Guide as a full time job in Tampa Bay, St. Petersburg and Clearwater we have been getting tons of snapper, mackerel, big trout, snook, shark and red fish.   Tops slots fish as well as huge reds to 15 lbs.  Monsters!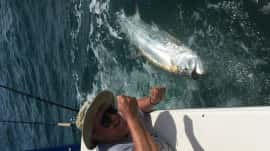 Tarpon, Snapper, Shark, Grouper all in the same place!  GREAT fishing for sure!!!!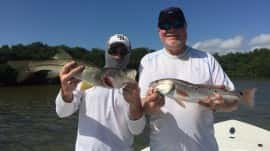 When the Client is one of your buddies and his father is a great guy fishing is not fishing anymore! It is getting together to go out on the boat! Together! I like that!!!!! We got some pompano, Jack, Redfish, Snook and we were casting at Tarpon! Pretty cool all around!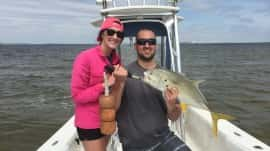 This couple went fishing and it was cold in the morning and got really warm. Right when the sun popped out we caught Permit, Jack and Pompano! Great day sight fishing for really large fish! Go fishing folks it is awesome out there!
Tagged under:
Best fishing charter Tampa
,
Charter Fishing Trips
,
Charter Fishing Trips Tampa
,
Charters Fishing Tampa
,
Charters Fishing Tampa Bay Florida
,
Deep Sea Fishing
,
Deep Sea Fishing Trips
,
Find Charter Fishing Tampa
,
Find Fishing Charter Tampa
,
Fish Charter Tampa
,
Fish On Charters
,
Fishing Boat Charter
,
Fishing Boat Charters
,
Fishing Charter Boats Tampa
,
Fishing Charters in Tampa
,
Fishing Charters Tampa Bay
,
Fishing Vacations
,
Ocean Fishing Trips
,
Shark Fishing Charters
,
Shark Fishing Tampa Bay
,
St Pete Fishing
,
St Pete Fishing Charter
,
Tampa Charters Fishing
,
Tampa Deep Sea fishing
,
Tampa Fishing Boat Charters
,
Tampa Fishing Charter
,
Tampa Fishing Guide
,
Tampa local Charter
,
Tampa Tarpon Fishing