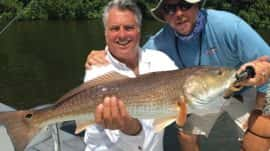 Fishing Tampa Florida in the Bay and flats has been spectacular! Fishing Guide as a full time job in Tampa Bay, St. Petersburg and Clearwater we have been getting tons of snapper, mackerel, big trout, snook, shark and red fish.   Tops slots fish as well as huge reds to 15 lbs.  Monsters!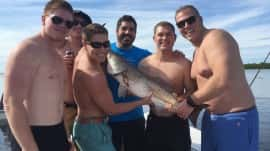 It has been hot and the fishing and the Flats Slams are in full swing even in the cruddy weather!   It usually clears up by the end of the day and everyone has a ton of fun!  I call it stitching the day!   A day when most go home or stay on the couch.  We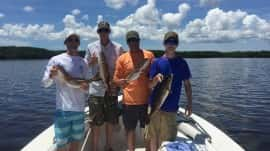 The tide was right for tailing reds and we were staring at them all day and they were eating the bait all day!  Good times for sure!
Tagged under:
33609
,
33611
,
33626
,
Charter Fishing Trips Tampa
,
Charters Fishing Tampa
,
Florida Fishing Guide Full Time FIshing Charter in Down Town Tampa
,
Shallow Point Charters
,
Shallow Point Fishing Charter Boats
,
Shark Fishing Tampa Bay
,
Tampa Fishing Charter
,
Tampa Fishing Guide
,
Tampa Tarpon Fishing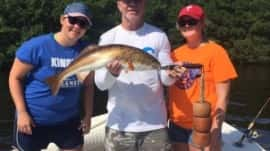 We got a bunch of fish in the morning then went hunting.  We lost quite a few to the bushes but got a bunch of slot and over slot fish!   not a bad way to start and end the day for sure!